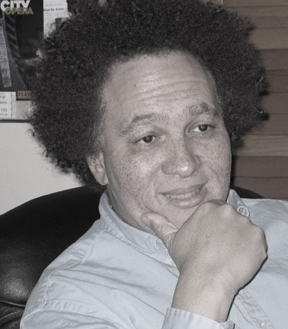 Excellent ....................****
Very Good ..................***
Good ..........................**
Fair ............................*
Poor ...................... No Stars
Scroll down or click on the movie title to see its review.
Amazing Grace || Bastards Of The Party || China Blue || Constellation || How To Eat Your Watermelon In White Company
Daddy's Little Girls || Smokin' Aces || Common Interview || Norbit
Amazing Grace
*** 1/2
Life Of Leading Brit Abolitionist
Recalled By Brilliant Bio-Pic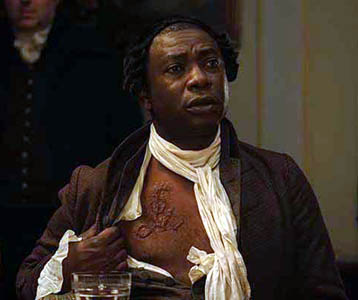 William Wilberforce (1759-1833) was born into a well-to-do family of British merchants. He attended Cambridge University which is where he forged an enduring friendship with William Pitt the Younger (Benedict Cumberbatch), a classmate who would become England's youngest Prime Minister a few years after graduation.
Rather than follow in his father's footsteps, Wilberforce also opted to enter politics, and was first elected to Parliament at the age of 21, representing Yorkshire. Inspired to serve more by humanitarian interests than by blind ambition, the young philanthropist soon became a leading advocate of social reform.
But he really found his true calling after becoming an Evangelical Christian when he came under the influence of abolitionists like Thomas Clarkson (Rufus Sewell) and John Newton (Albert Finney), the remorseful, former slave ship captain who had written the hymn Amazing Grace following a dramatic religious conversion. Wilberforce experienced a similar transformational spiritual encounter which prompted him to lobby tirelessly against slavery for the next 20 years.
And it is this uphill battle which is vividly recounted in Amazing Grace, a compelling bio-pic from veteran director Michael Apted, who is probably best known for the 7 UP series of documentaries. Here, Apted ever so convincingly conveys the notion that an impassioned idealist is just as capable of shaping history as the monarchs and military heroes who are typically the subject of this sort of costume drama.
Ioan Gruffudd makes a yeoman's effort as William Wilberforce in a challenging role which calls for him to portray, empathetically, a determined character somehow simultaneously imbued with an endearing humility offset by a God-ordained self-righteousness. The stellar supporting cast includes Youssou N'Dour as ex-slave Oloudah Equiano, Romola Garai as Wilberforce's wife Barbara Spooner, and Michael Gambon as Lord Charles Fox.
Be forewarned, audience members expecting eye-popping action sequences are apt to be disappointed by this character-driven production. However, those approaching the picture as an overdue tribute to an overlooked icon are apt to be richly rewarded, and perhaps even inspired by this self-empowerment flick which arrives at a time when society is sorely in need of another such hero.
Rating: PG for mild epithets and mature themes involving slavery.
Running time: 111 minutes
Studio: Samuel Goldwyn Films
Bastards Of The Party
****
Documentary Highlights The Grim Side
Of Ghetto Gangsta Lifestyle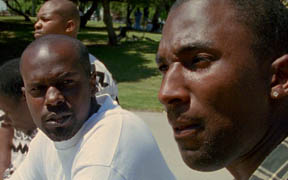 Contrary to the ghetto fabulous stereotype suggested by the bottomless bling and gratuitous booty calls of gangsta' rap videos, the raw reality of the thug life is nothing to romanticize. That is the basic thrust of Bastards of the Party, the appropriately titled documentary which chronicles the rise of the Crips and the Bloods in South Central Los Angeles.
The movie was made by Cle Shaheed Sloan, a reformed gangbanger, now 34, who joined the Bloods at the age of 12. Given his street cred, Cle was afforded unusual access to current members for interviews. What quickly becomes obvious is that these lost boys invariably hail from broken homes and were in dire need of appropriate role models.
They dropped out of school, and start dealing drugs and doing drive-bys in a never-ending turf war which has gobbled up the future of far too many. Don't expect to see any altar boys here, just a lot of ready to rumble recidivists with itchy trigger-fingers.
As far fetched as this might sound, Cle makes a fairly convincing argument that the Bloods and Crips began because of a rivalry between the de-politicized Black Panthers and Kwanzaa creator Ron Karenga's U.S. Organization. His basic theory is that the federal government infiltrated both organizations and turned them against each other.
Regardless, the picture saves its most sobering moment for last when, as the credits roll, they show videos and stills of dozens of gangstas, first alive, and then lying dead in caskets as friends and family file by. Tuning-in to this HBO original ought to be mandatory for any at risk teen even considering the hard knock life.
Rating: TVMA for mature content, violence, profanity, and ethnic slurs.
Running time: 97 minutes
Studio: HBO
China Blue
****
Chinese Blue Jeans Sweatshop
The Subject Of Expose'
How would you feel if you knew that the jeans you're wearing were made by young Asian girls who got paid the equivalent of about six cents an hour? This might very well be the case, since the factory which is the focus of this expose' is fairly typical of what you'll find behind the Bamboo Curtain nowadays.
Apparently, the arrival of capitalism has led to the further exploitation of females, who already suffered from a lowly status in Chinese society, given the culture's stated preference for boys. In fact, one of the subjects of this poignant picture talks about how she is working in order to subsidize her brother's schooling, because her family could not afford to educate them both.
Most of this disturbing documentary was filmed in the city of Shaxi at a torture chamber owned by Guo Xi, the town's former police chief. Mr. Xi gave director Micha X. Peled full access to the premises, because he had been duped into believing that the final presentation, when edited, would be positive. Boy, was he wrong. In any case, he seemingly fully cooperated with any request, even appearing on camera himself to boast about how strict he is with his staff.
The girls he employs, some as young as 14, work everyday of the week and virtually round the clock. They are forced to live like sardines in fetid dormitories right on the site, and their bully of a boss seizes on any excuse to dock their pay. They only get about four hours sleep at night, which might help explain their tendency to doze off on the job. But the enterprising Mr. Xi demonstrates his remedy for such indiscretions, namely, stiff fines, and using clothespins to keep their eyelids open.
In much the way that Mardi Gras: Made in China did with the bead industry, and that Black Gold did with the coffee bean industry in Ethiopia, and The Empire in Africa did with the diamond trade in Sierra Leone, and The Devil's Miner did with silver mines in Bolivia, and Darwin's Nightmare did with the fishing trade in Tanzania, and Congo: White King, Red Rubber, Black Death did with the rubber business in the Congo, China Blue is just the latest in an invaluable string of eye-opening documentaries designed to make Westerners face the fact that their relatively high standard of living comes at the expense of the virtually-enslaved indigenous peoples of the Third World who are impoverished and living in squalor amidst pre-modern circumstances.
Six cents an hour? Is it any wonder that more and more manufacturing is outsourced overseas? Welcome to globalization!
Rating: Unrated; In Cantonese, Mandarin and English with subtitles.
Running time: 86 minutes
Studio: Bullfrog Films
Constellation
*
Skeletons Galore
In Dysfunctional Family Drama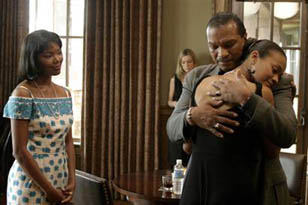 When Carmel Boxer (Gabrielle Union) passed away, almost all of her extended family willingly descended upon their sleepy hometown of Huntsville, Alabama for her funeral. The only holdout was her brother Helms (Billy Dee Williams), an embittered expatriate living in Paris.
Helms had to be tricked into believing his sister had already been buried before he would return to his roots. Why? Because he had made such a mess of his life by the time he left there. He had grown up during the days of segregation and had dared to date and then even to wed a white woman. And though that marriage to Nancy (Leslie Ann Warren) would not last, it did at least produce an estranged, café au lait daughter in Lucy (Melissa de Sousa).
His second marriage, to Jenita (Rae Dawn Chong), a Black woman, didn't last either, it did happen to produce another offspring, namely, relatively well-adjusted Rosa (Zoe Saldana). If this scenario doesn't sound like enough of a soap opera, also back in town is Lucy's white husband, Kent (Alec Newman), and Rosa's Black ex-boyfriend, Errol (Hill Harper), who cheated on her with her white best friend, Celeste (Ever Carradine).
And wouldn't you know it, Celeste is the niece of Bear (David Clennon) who just wished he had had the strength a half century before to propose to the love of his life, the dearly-departed Carmel. But because he never summoned the gumption to cross the color line, he was fated to be plagued by overwhelming regret to this very day.
So, you'll need a scorecard to keep the players straight in Constellation, a distinctly disappointing sophomore effort by writer/director Jordan Walker-Pearlman, whose impressive debut, The Visit, had landed high atop this Critic's Top Ten List for 2000. Here, he taps several of the same actors (Harper, Chong, Clennon and Williams), but in service of a decidedly inferior gabfest.
This over plotted, emotional dump plods along as if the characters are stuck in the cinematic equivalent of quicksand, never generating any traction because no matter how much everybody vents, nothing of consequence ever transpires. Walker-Pearlman apparently bit off more than he could chew, for this rudderless production lacks the coherence to see it as a finished feature film.
Yet that doesn't stop Constellation from purporting to deliver a message, that "You love the people who love you back." Well, the same goes for flicks, and this one doesn't show much love.
Rating: PG-13 for brief profanity and a sexual reference.
Running time: 96 minutes
Studio: Codeblack Entertainment
How To Eat Your Watermelon In White Company
(And Enjoy It)
****
Melvin Van Peebles Biography
To Air Uncut On IFC Channel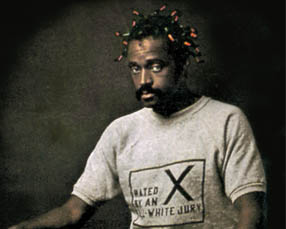 Melvin Van Peebles is truly a Renaissance Man, having not only acted in, but sang, produced, edited, and written scripts and scores for both movies (Sweet Sweetback's Badass Song) and Broadway plays (Ain't Supposed to Die a Natural Death). He probably first found fame in 1970 when he directed a comedy called Watermelon Man for Columbia Pictures.
But he really made his seminal contribution to cinema a year later with Sweet Sweetback's Badass Song, an independent flick he shot on a shoestring budget. What made this movie so remarkable was that it grossed over $10 million dollars at the box office without studio backing, thereby proving to Hollywood that there was a market for Black oriented entertainment. However, where Sweetback presented African Americans with dignity, intelligence and political awareness, the Blaxploitation Era which ensued was marked by pictures filled with pimps, hustlers, whores and all sorts of sorry stereotypes.
How to Eat Your Watermelon in White Company is a brash bio-pic which chronicles the life of Van Peebles, warts and all. It shows the feisty 73 year-old to be as irascible as ever as he explains how, frustrated by racism in America, he abandoned the U.S. for France at an early age. Overseas, his artistic endeavors were encouraged and developed before the expatriate eventually returned home with a determination to get his projects done, come hell or high water.
Among the many luminaries making appearances in the picture are Melvin's son, Mario, filmmaker Spike Lee, photographer Gordon Parks, and musician Gil Scott-Heron. But the irrepressible Van Peebles doesn't really need all the accolades, as this edgy documentary easily convinces the viewer of its subject's considerable genius, as a role model who managed to maintain his integrity, and to make a buck while thumbing his nose at a racist system designed to suppress his revolutionary ideas.
Rating: Unrated
Running time: 85 minutes
Studio: IFC
Daddy's Little Girls
llll
Frigid Attorney Melts For Amorous Auto Mechanic
In Charming, If Predictable, Romantic Comedy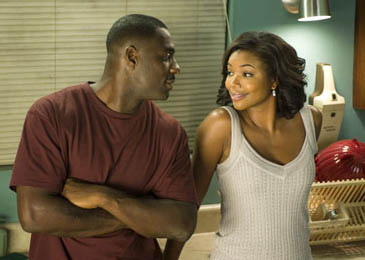 Julia (Gabrielle Union) is a very busy attorney pulling down a six-figure salary at an Atlanta law firm founded by her father. She has a corner officer and a pricey condo with a breathtaking view of the city. The only thing missing in this workaholic's life is a mate to share all her success with, because, as she says, "It's really hard to meet a nice Black man."
Lucky for her, she has a couple of girlfriends, Cynthia (Tracee Ellis Ross) and Brenda's (Terri J. Vaughn) who are intent on playing matchmaker. But all the blind dates they come up with turn out to be total disasters.
One loser is an unemployed, 40 year-old, aspiring rapper who describes himself as "between jobs," expects Julia to pick up the check, and makes a scene in the restaurant by complaining "How come all the white people have bread!" very loudly. Another player seems like a nice guy till they're confronted on the street by his wife and young son who screams, "Get away from my daddy, tramp!"
Just when Julia is resigning herself to a perpetual state of spinsterhood, Mr. Right appears in the person of Monty (Idris Elba). The problem is that she barely notices him, since the only reason their paths cross is because he's moonlighting as a limo driver to supplement his income as an auto mechanic.
Monty needs the extra income to support his three adorable little girls (Sierra, China and Lauryn McClain), plus he has a big custody battle brewing with his trashy ex-wife, Jennifer (Tasha Smith) who is shacking up with a drug dealer (Gary Anthony Sturgis). The wayward woman has already indicated that her outlaw Sugar Daddy is willing to underwrite her legal fees.
Not wanting his daughters to end up with their obviously unfit mother and a bad male role model, Monty, in a stroke of genius, impulsively asks the pretty, high-powered lawyer he happens to be chauffeuring around to handle his baby mama drama in the courtroom. Julia reluctantly agrees to take his case pro bono. Then, he even summons up the courage to ask her for a date, once he senses a little chemistry between them.
This daddy's little rich girl-meets-humble poor boy premise underpins Daddy's Little Girls, the latest modern morality play from Tyler Perry. Although there's no Madea character in the mix this time out, the film was written and directed by Perry and therefore features plenty of his pictures' trademarks. Thus we find an assortment of recognizable African American archetypes from the abuse victim to the trifling womanizer to the sassy sister to the gallant knight in shining armor who serves to smash the prevailing negative stereotype of the Black male as a gangsterish thug.
Gabrielle Union has never before exhibited as much of an emotional range as seen in this role as an ice princess whose cold heart melts when offered an opportunity with a real man who comes with a ready-made family. Idris Elba is just as endearing as that too good to be true patriarch willing to do whatever it takes to protect his offspring. And the rest of the principal cast deserves kudos for giving their all in executing Perry's timely script designed to tap into his targeted demographic with another very positive message.
Given the reliable quality of such recent Lions Gate productions as Crash, Madea's Family Reunion, Akeelah and the Bee, and now Daddy's Little Girls, the studio has quietly established itself as the industry leader when it comes to producing dignified African American-oriented fare. This flick's a breath of fresh air after the insulting garbage some of its competition has been pushing lately like Norbit and Code Name: The Cleaner.
Rating: PG-13 for sexuality, profanity, violence, drug use and mature themes.
Running time: 95 minutes
Studio: Lions Gate Films
Smokin' Aces
*
Hit Men Aplenty In Overplotted Mafia Comedy
Buddy "Aces" Israel (Jeremy Piven) was a two-bit magician with a mediocre lounge act until the Mafia turned him into a Las Vegas headliner. But instead of feeling indebted to mob boss Primo Sparazza (Joseph Ruskin) for the helping hand, the ambitious ingrate chose to start his own competing crime organization.
Initially, Aces met with a measure of success, and celebrated by overindulging in women and wine. At least until the Feds got the goods on him. Then, rather than spend the rest of his life in prison, he agreed to turn state's evidence. However, once word reached Sparazza that Aces was about to testify against him, the aging mobster took out a million-dollar contract on the back-stabbing stool pigeon.
And although the FBI tried to hide their prized witness for the prosecution in a penthouse atop a Lake Tahoe casino, word of his whereabouts still quickly spread on the street due to his inability to curtail his high-profile habits. So soon, all sorts of depraved degenerates descend on the city in search of the snitch in order to cash in on the big payday.
That, in a nutshell, is the point of departure of Smokin' Aces, an unapologetically gruesome revenge flick ostensibly inspired by Quentin Tarantino's Kill Bill. For it not only shares that picture's prevailing theme and a penchant for graphic sado-masochism but it even has a similar absence of a coherent plot and character development.
Nonetheless, writer/director Joe Carnahan deserves credit for catering to that crowd capable of appreciating a high attrition-rate adventure so long as the bodies continue to pile up. For, if you're willing to put your brain on hold, between beaucoup booty calls, bling and bulletry, Smokin' Aces is certainly visually-captivating from start to finish. Just don't expect its storyline to be any more sophisticated than the typical gangsta' rap video, and you won't be disappointed.
Carnahan gleefully ignores the talents of an impressive ensemble in order to indulge in an unrelenting orgy of inconsequential carnage, thereby squandering the services of Ben Affleck, Andy Garcia, Ray Liotta, Peter Berg, Taraji Henson, Jason Bateman and Ryan Reynolds in the process. Perhaps more noteworthy is the fact that the movie marks the screen acting debuts of a couple of Grammy-winners, pop diva Alicia Keys and hip-hop artist Common, who acquit themselves quite capably in support roles as a pistol-packin' assassin and a beefy bodyguard, respectively.
The film also features a rainbow coalition of scantily-clad models seen hanging around the hedonistic Aces like refugees from a Jay-Z video. These "cinema hos" are on screen for no apparent reason except to be treated like sex objects before being ushered off with lines like: "You went from Beyonce' to Bigfoot."
Since, in the end, Smokin' Aces unfortunately takes a bizarre departure in an unanticipated direction which makes little sense, it is not really recommended for the cerebral cineaste, but more for that demographic satiated by bloodlust alone.
Rating: Rated R for sexuality, female frontal nudity, pervasive profanity, ethnic slurs and graphic violence.
Running time: 109 minutes
Studio: Universal Pictures
Common Making Sense
The Smokin' Aces Interview With Kam Williams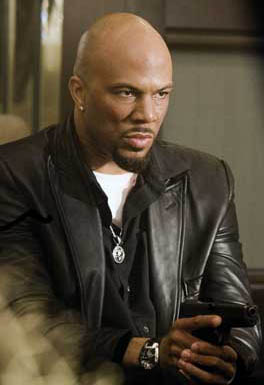 Born in Chicago on March 13, 1972, Lonnie Rashid Lynn, Jr. is said to be one of seven children fathered by the former pro-basketball player of the same name. After dropping out of Florida A&M, he changed his name to Common Sense before making his debut as a hip-hop artist by releasing a CD entitled Can I Borrow a Dollar?
His next album, Resurrection, sparked a feud with West Coast gangsta' rapper Ice Cube, tensions which were only quelled after the two sat down with Minister Louis Farrakhan. He shortened his name to just Common after some losers in a garage band sued him, claiming to have the exclusive trademark for "Common Sense."
In 2003, he won his first Grammy for "Love of My Life," a duet he performed with his then fiancée Erykah Badu for the film Brown Sugar. Ironically, the relationship ended soon after the song's release. Having mellowed with age, Common has now come to swear off the misogyny, militancy and marijuana which marked his early career. Turning a new leaf, he's also embraced vegetarianism and become an animal rights activist.
He's even expanded himself professionally, adding modeling (for The Gap) and acting to his repertoire. His first film appearance was in Dave Chappelle's Block Party, and later this year he'll be appearing opposite a trio of Oscar-winners, Denzel Washington, Russell Crowe, and Cuba Gooding, Jr. in Ridley Scott's American Gangster, a crime saga with $100,000,000 budget.
Here, he reflects on his latest role, as Sir Ivy in Smokin' Aces.
KW: Thanks for the time, brother.
C: Yeah, thank you. How you doin'?
KW: Very well. The first thing I want to say that I caught you performing on Jay Leno and I was surprised to see my son's sax teacher, Justin Robinson, playing with you.
C: [Laughs] Yeah, we try to get the best musicians possible, and Justin is a great musician, man, a great player. You must have been surprised to see him out there, then.
KW: Yeah, and I was just as surprised to see your co-star, Jeremy Piven, playing congas.
C: Yeah, he actually came to a concert of mine before I got the movie. When he saw me perform, he told the director that he thought that I could really rock the role. So, he really supported me and we became real cool. And when I found out he played drums and percussion, and that he really wanted to be with the band, I said, "Yo, we can work it out. This is perfect opportunity to do it, because it's for Smokin' Aces." It worked out good, man. We were very happy with the whole performance.
KW: So, how do you feel about your first acting role?
C: Man, I feel excited. I just feel grateful to be a part of such a quality piece of work and to just be around such great actors. It's exciting to be able to go to a theater and see myself on the big screen for the first time.
KW: Even though you've already enjoyed quite a career as a rap star?
C: Man, it's an incredible thrill. I woke up so early on the day of the premier, and now I'm up early again doing interviews. I'm just excited about being a part of this movie.
KW: How would you describe your character?
C: My character, Sir Ivy, is the right-hand man of Jeremy's character, Buddy Israel. Buddy has become hated, and I'm his bodyguard, a very noble type of guy, but I'm a killer. And all these assassins are coming to get Buddy, and I'm like on the defense until a twist occurs and I just have to go for mine. But I'm this quiet killer who's noble.
KW: You're also up for some Grammys. Kanye [West] says he thinks you deserve to win. How do you feel about it?
C: Man, I would love to get another Grammy. It's always good to be honored. We don't make music or movies to get the awards, but any honor feels good when people give you awards, and when the critics say the material's good. But I guess the true test of an artist is that when they don't say it's good, you gotta keep going, and continue to do what you believe.
KW: Staying with that theme, I want to credit you for becoming a socially-conscious rapper, and succeeding in spite of BET saying they won't air your music and others like Talib Kweli and Dead Prez because it's not dumb enough for their demographic.
C: I don't feel that we're too smart. I feel that the audience is smart, but they don't get to hear that music enough. But when they do hear it, it's food for their soul. Our people are born intelligent, and naturally divine. But a lot of video channels and radio stations don't want to change to music and art that's conscious. That's why it's overlooked. So, I don't think our people are ignorant. Those that are exposed to it, will become aware, and rise.
KW: You were in Dave Chappelle's Block Party, where he said at the outset he was bringing together a lot of his favorite, socially-aware artists.
C: Yeah, it was a blessing to be a part of that. That was a special day, and it got recorded. Man, you had Erykah Badu, The Roots, Mos Def, Talib Kweli, Dead Prez, Jill Scott, The Fugees and many more. And Dave Chappelle, for that matter. That's history. That's classic.
KW: Yeah, it was stunning. I felt the music ended up eclipsing the comedy. I gave it four stars, but I believe the music overshadowed the humor.
C: Yeah, yeah, yeah, I mean, I think that's what it was about for him, honestly. Getting the music out there. He knows he can sell his comedy when he needs to.
KW: Tell me about your conversion to vegetarianism.
C: Your body is you. That's your temple. So, eating wisely helps you function for the day. If you want to look good and feel good, you gotta eat good. What you put into your temple, man, is very important. I learned that later on in life, but I started putting that into practice. I'm not perfect in my eating. I just try to live healthily, and to take care of myself so that during this lifetime I can live good.
KW: What was it like working opposite Alicia [Keys] in Smokin' Aces? Did you know her before?
C: I had known her for a little while before. She's someone that I respected, and is a good person in this industry. You know, we both supported each other because we both had nervousness and excitement. We had some of the same emotions. She is definitely a talented girl, and she was just a beautiful person, man, it was something to work with her. There was good bonding. I just felt her, and we kinda' supported each other.
KW: I know you're originally from Chicago. I used to work for Channel 12, WTTW there. But do you live in L.A. now?
C: Yeah, pretty much.
KW: My West Coast buddy, Jimmy Bayan would like to know where in L.A. you live?
C: It's funny, I don't even know exactly what my neighborhood is called, but it's in the Hancock area. I go back and forth between L.A. and New York. I stay in both places.
KW: So, what's on the horizon for you?
C: I just launched a hat line called, "Soji." They're out now, in a boutique store in New York, La Coppola Storta. But they'll be available on the web soon, too These are high end quality hats, man. They're handmade in Italy. It's a beautiful thing. I'm really proud of them. It's looking bright.
KW: What advice do you have for young bloods who want to follow in your footsteps?
C: Man, just believe in yourself, be able to dream, and know that there's going to be valleys and peaks. Always stay centered, and know that God is the key, the beginning and end of everything you do.
KW: Well, thanks for your time, Common, and the best of luck in your career, with the music, the movies, the Grammys and all of your many endeavors.
C: Yeah, I appreciate that, man, and I'm grateful for the time. Keep pushing out the good stuff.
KW: Next time I see Justin I'll tell him I spoke with you.
C: Yeah, tell him we hollered. And we're definitely going to be playing together again soon.
KW: Well, if you're performing anywhere around here, I'll definitely come check you out.
C: Okay, for sure, man, have a good one, all right?
KW: You too, peace.
Norbit
1/2
Naïve Nerdy Nice Guy Searches For True Love
In Eddie Murphy Vehicle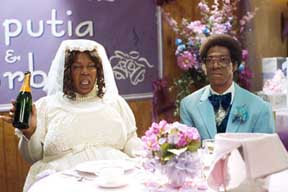 Playing more than one more person in a film is nothing new to Eddie Murphy. He handled two roles rather brilliantly in Bowfinger, and met with as much success cast as eight in Nutty Professor I and II. Because in the past he's appeared to be quite comfortable cross-dressing and wearing a fat-suit for the camera, it is rather surprising that Norbit would turn out to be such an unmitigated disaster.
Eddie portrays three of the leads in this relentlessly coarse makeup movie. Of course, he's the sympathetic title character, Norbit, a bespectacled naïve, nerd. He's also Mr. Wong, the trash-talking, Asian-American owner of the Golden Wonton Chinese Restaurant and Orphanage. And finally, he's Rasputia, a sassy, oversexed, super-sized sister.
The story opens with a babe in swaddling clothes being abandoned by parents who toss him out of a car on their way home from the hospital. Norbit is rescued and raised by Mr. Wong who refers to the tyke in pidgin English with lines like "You very ugly baby… Ugly Black one… You be here long time…" thereby setting the table for the crude romantic comedy's prevailing tone which makes characters with darker skin the butt of virtually every joke.
Norbit's early childhood is nearly idyllic because he and another orphan, thin and light-skinned Kate (Thandie Newton), are inseparable playmates, at least until she is adopted and whisked away forever by her new family. Her presence is replaced by fat and ugly Rasputia whose saving grace is that she protects him from playground bullies.
With the help of her beefy big brothers (Terry Crews, Clifton Powell and Lester Speight), Rasputia pressures a reluctant Norbit into marriage when he'd prefer to hold onto the faint hope of a reunion with Kate. So, it's not hard to figure out how this fairly predictable fairy tale will turn out by the end of the third act, when Rasputia gets just what's coming to her while Kate and Norbit waltz off into the sunset.
Of far more interest is the nature of the humor, here, which seizes on every opportunity to demonize and denigrate our overweight antagonist. For example, when Norbit introduces his bride, he is greeted with "You married a gorilla!" On another occasion, when he asks his expecting wife about the pregnancy, she simply farts loudly, and then says, "There's your child."
But most of the laughs are generated by sight gags, like when Rasputia is stopped from entering a theme park because her rolls of fat are covering her bikini bottom, making it appear that she is naked from the waist down. Eddie can't complain about the demeaning script, since he co-wrote it with his brother, Charlie.
The screenplay includes offensive dialogue between two gaudily-dressed pimps, named Lord Have Mercy (Katt Williams) and Pope Sweet Jesus (Eddie Griffin) with a license plate which reads "SELLNHOS" and a whorehouse called Beds, Bitches and Beyond, get it? Consider this exchange between the pair when a young white girl falls out of the sky from nowhere.
Pope Sweet Jesus: "It's raining little white women."
Lord Have Mercy : "My prayers have been answered!"
Pope Sweet Jesus : "My prayers are for a Cadillac."
This, and nearly every other joke falls flat, squandering the services of Oscar-winner Cuba Gooding, Jr., Marlon Wayans and more in the process, leaving one to wonder how such an ill-fated adventure ever got off the drawing board.
Rating: PG-13 for nudity, sexuality, profanity, and crude humor.
Running time: 102 minutes
Studio: Paramount Pictures